Webinar Information (Free Registration):
TOPIC: The Challenges of Narcolepsy: A patient's and clinician's perspective

Cost:  FREE
Date:  Tuesday, 17th October  2023
Time: 7:30 pm to 8:30 pm Eastern Time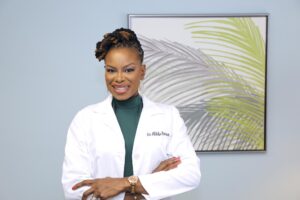 Presenter: Dr. Funke Afolabi-Brown
About the Presenter:
Dr. Funke Afolabi-Brown is a pediatric pulmonologist and sleep medicine physician, possessing  a board certification and an extensive clinical background of over 15 years. Her medical journey started with her pediatric residency at Maimonides Medical Center in NY, following rigorous medical training in Nigeria.
As she pursued her passion for pediatric pulmonary care, Dr. Afolabi-Brown sought advanced fellowship training at the renowned St. Christopher's Hospital for Children. Her exceptional dedication, leadership, and teaching abilities garnered recognition, as she was elected as the chief fellow during her fellowship tenure.
To broaden her expertise, she undertook a fellowship in sleep medicine at the University of Pennsylvania. Her clinical focus revolves around providing specialized care for children and young adults with various sleep disorders, encompassing complex sleep-related breathing disorders, behavioral sleep issues, circadian rhythm disorders, and central disorders of hypersomnolence.
Dr. Brown's impact extends beyond her clinical practice, as she founded RestfulSleepMD.
Through this initiative, she diligently serves as a speaker and consultant with a mission to
emphasize the significance of sleep as a fundamental aspect of health for busy professionals and organizations. Her mission is to help reduce burnout and promote resilience among professionals using sleep as a tool.
In addition to her substantial contributions in the field, Dr. Afolabi-Brown has authored several peer-reviewed manuscripts, contributing to the existing body of knowledge on sleep-related issues. Her dedication to patient care, research, and advocacy showcases her as an invaluable asset to the academic and medical communities.